admin on September 19, 2012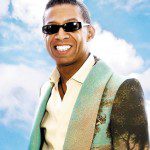 Ready to wear collection created by a fashion legend
Known as the magic behind the enchanting designs that icons such as Whitney Houston, Lena Horne, Angela Bassett and Cicely Tyson have worn, B Michael is regarded as a fashion legend and inspiration. Michael recently launched his ready to wear collection "B Michael America Red" at Macy's. The collection is said to be a reflection of the designer's signature style.
A natural next step
The move to showcase his signature aesthetic appears to be the natural next step for the designer. Michael has a history in design that dates back to the TV series "Dynasty." The designer has designed for Oscar de La Renta and Louis Feraud. It is safe to say that Michael not only brought his preferred aesthetic to his new collection, he also brought a rich history of fashion to his collection.
"It is a modern approach to glamour," Michael said. "It is very rich with Autumn foilage tones including: deep terracotta, eggplant and golds with brown as a balance."
The collection also draws influence from the Michael's work with Whitney Houston on the film "Sparkle."
Michael's collection is only available at Macy's Dadeland. The price range of the collection is between $155 and $400.
Surviving the industry
Michael's success is impressive all on its own but it is considered exceedingly impressive given the sometimes tumultuous rapport the fashion industry seems to adopt when it comes to the issue of race. Michael's success can be credited with his choice to not accept racism as an obstacle.
"I think among ourselves we have the power to overcome such issues," Michael said. "The bigger issue is learning to support each other. I am fortunate to have the support of very accomplished people of all colors and we have to pay it forward."
By Ju'lia Samuels
jsamuels@miamitimesonline.com